At Pigtails & Crewcuts, our mission is to provide haircare services that create a fun and memorable experience for kids. We also want to create a positive working environment for the staff across our system and an atmosphere that keeps our employees invested and passionate about the jobs they do each day. Company culture is very important to us, and we have several stylists and managers who have been with us for many years. They, along with our franchisees, are what make the Pigtails & Crewcuts business model a cut about the rest. This month, we are highlighting managers who have been with Pigtails & Crewcuts for a decade or more: Charmaine (Buckhead, GA), Shelli (Little Rock, AR), and Amber (Orlando, FL). 
Meet Charmaine from Buckhead, GA: 
Our Buckhead salon, the original Pigtails & Crewcuts location, opened in 2004, and Charmaine has been with the company ever since. Her tenure with the brand began as a stylist, and she was promoted to manager when the franchise acquired the salon in 2015. Charmaine says that her favorite thing about her job is that every day is different. "I love to see the children grow. They come in as infants and toddlers, but when they begin talking, our conversations are hilarious! It is so fun to be silly and act like a kid again through my clients."
Apart from day-to-day salon operations, hiring, and working as a full-time stylist, Charmaine has led other managers throughout the Pigtails & Crewcuts system. Every 18 months, the franchise hosts a national conference for franchisees and their managers. "My experiences from the Conference have been eye opening and enlightening. Every salon is different, but the same, too. Conference is a place to enjoy conversations with other owners and managers to gain different ideas and approaches and get a different outlook on the ways I can run the Buckhead salon." 
Meet Shelli from Little Rock, AR: 
Shelli began her career with Pigtails & Crewcuts in 2008. She's been the manager at the Little Rock salon since 2011. She was so excited to attend her first Conference in 2022 and loved meeting other managers from across the country. "Conference is so fun! I really enjoyed the time and open discussions with the other managers just to learn more about how things are done in other salons." Our Conferences are a great way to develop relationships.
Shelli has also been able to establish great relationships with her clients throughout the years. "My absolute favorite thing about my job is learning about everyone's different family traditions! My customers are always sharing recipes and ideas, especially around the holidays." She has been able to watch many of her clients grow from babies to high schoolers. "Knowing the kids and families you service is so important. I genuinely love my customers."  Shelli handles weekly employee scheduling and online booking, as well as day-to-day operations and managing customer service. She also assists with training new stylists and is always there to answer questions or help with technique.  
Meet Amber from Orlando, FL: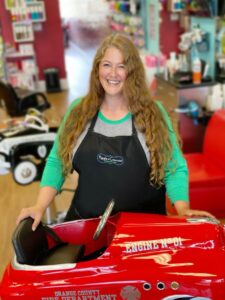 Amber has been working at our Orlando-area salons since 2013 and has been the regional manager for the market for the last 8 years. "I love the families and kids that I get the pleasure to work with every day. I started doing kids' hair in 2007 because the hours are more family friendly. My kids are now grown but working with kids has become my passion." Amber shares that her responsibilities as manager include hiring, scheduling staff, retail ordering, merchandising, and handling day-to-day operations for 3 locations.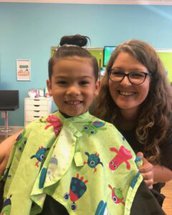 She loves working with the franchise owner and her awesome co-workers. In Amber's time with Pigtails & Crewcuts, she has attended three Conferences. "I always learn lots of new things to take back to the salons. It's refreshing to talk to other managers and owners and see that I work for a small business that is part of a bigger brand with an amazing franchise team for support." 
That support is what the Pigtails & Crewcuts brand is all about. Are you interested in a semi-absentee business model that will allow you to provide jobs in your community, with unmatched franchise support? Contact us today to learn more about the Pigtails & Crewcuts franchise opportunity. 
Are you a stylist looking for a fun and positive work environment? Visit our Careers page to discover opportunities near you!