Whether you're just starting to build your franchise portfolio or adding to a mature roster of business investments, you want to select a concept that aligns with your sensibilities as well as generates profits.
Our kid's haircut franchise is the perfect complementary brand for your franchise portfolio. Our franchisees have a wide range of business ownership in their portfolios, including construction, food, property management, fitness, and more.
Here are four reasons Pigtails & Crewcuts fits so well into diverse portfolios:
1. Simple Operations Frees up Time
Unless you want to be involved styling children's hair, you can leave the day-to-day operations up to the team of stylists you hire. This allows you to focus on other aspects of operating the business, provide more attention to other franchise concepts in your portfolio, or take advantage of a better work-life balance.
Franchisees don't need prior industry experience to join the Pigtails & Crewcuts family. We provide ample training – both in the classroom and in the salon – to make sure franchisees are primed and ready to run their own salon.
2. Scalable Concept in Strong Industry
Pigtails & Crewcuts is expanding steadily in the growing $64 billion U.S. haircut industry, of which more than $5 billion is spent on children's haircuts alone. We are a growing kid's haircut franchise with 62 salons in 23 states and 61 locations in development.
Our fun brand makes haircuts enjoyable for children with bright and colorful salon interiors, haircutting stations with whimsical chairs that look like cars and planes, along with movies, toys, and games kids enjoy. Pigtails & Crewcuts appeals to the large millennial parent population, which has tremendous spending power and demands an experience wherever they spend money – especially for their children.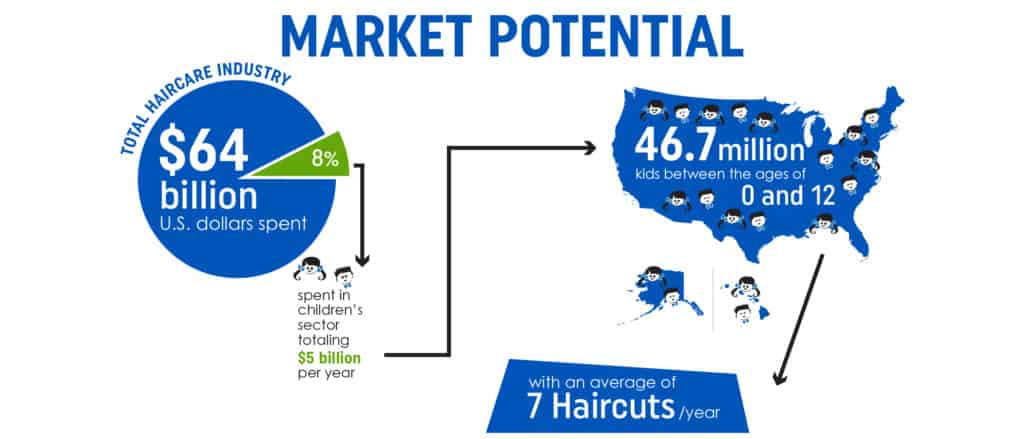 And, because haircuts for kids are a necessity, Pigtails & Crewcuts is a recession-resilient business. No matter how the economy is performing, you'll still have parents bringing their sons and daughters in for a trim.
3. Strong Corporate and Peer-to-Peer Support Provides Peace of Mind
Because we value our franchise owners and view them like family, we want to make owning a Pigtails & Crewcuts as easy as possible, whether you work as an owner-operator or as an absentee franchisee.
Right from the beginning, the Pigtails & Crewcuts corporate team actively provides superior assistance and training, which continues as long as you own your hair salon. Our protected territories along with marketing, operation, and retail training provide you with a leg up on the competition. This also includes tips for hiring and retaining rock star hairstylists, the core of your Pigtails & Crewcuts franchise.
Corporate help with site selection, lease negotiation, and signing also go a long way toward operating a profitable salon. We guide our franchisees through every step of the site selection process, helping them find the most visible, accessible, and high-traffic locations. Before that, though, we make sure strong demand exists for each location by vetting markets with the most desirable area demographics for our concept. We take median household income, population density, and number of families in the area into consideration.
We provide a complete turnkey solution, so our franchisees don't have to be concerned with decorating their salons. The franchise team, working within pre-established, system-wide brand guidelines, provides several site layout and design plans, along with all the supplies and equipment you need to get up and running.
In addition, our peer-to-peer network provides another layer of support among franchisees just like you.  This network makes it easy for franchise owners to communicate among one another and discuss various questions about the business through multiple channels. For example, the network's private Facebook group allows salon owners to share experiences that others can draw inspiration from, comment on, or learn from on a daily basis.
Our support is a key differentiator for our kid's haircut franchise, making Pigtails & Crewcuts an attractive investment.
4. Affordable Capital Investment Makes Entry Easy
Pigtails & Crewcuts offers a range of affordable franchise fees depending on how many salons you want to own. The franchise fee for a single unit is $30,000, a great option if you want to start out slow. For more aggressive investors interested in multi-unit franchising, the franchise fee is only $67,500 for three units. We offer a five salon option as well at $100,000.
Low overhead and start-up costs give franchisees a head-start toward generating a profit. Our typical layout features a small footprint – between 1,200 and 1,500 square feet – so we're able to cut down on the initial purchase price for the space. This also helps minimize ongoing expenses, like utilities and maintenance, as well as insurance and any rent or lease payments.
With simple operations, strong demand, comprehensive training, and support and a relatively low barrier to entry, Pigtails & Crewcuts is the ideal brand to add to your multi-unit, multi-brand franchise portfolio.
To learn more about the Pigtails & Crewcuts franchise opportunity, contact us today!