Children's franchise concepts have gained significant traction in the past decade, and the future looks equally bright.
Between an increase in spending on children across the board and being a recession-resilient concept, the children's franchise space is poised to hit its stride in 2020 and beyond.
Millennial Parents' Spending Will Increase
The number of children in the U.S. is projected to reach nearly 80 million by 2050, growing from the current 74.1 million expected in 2020.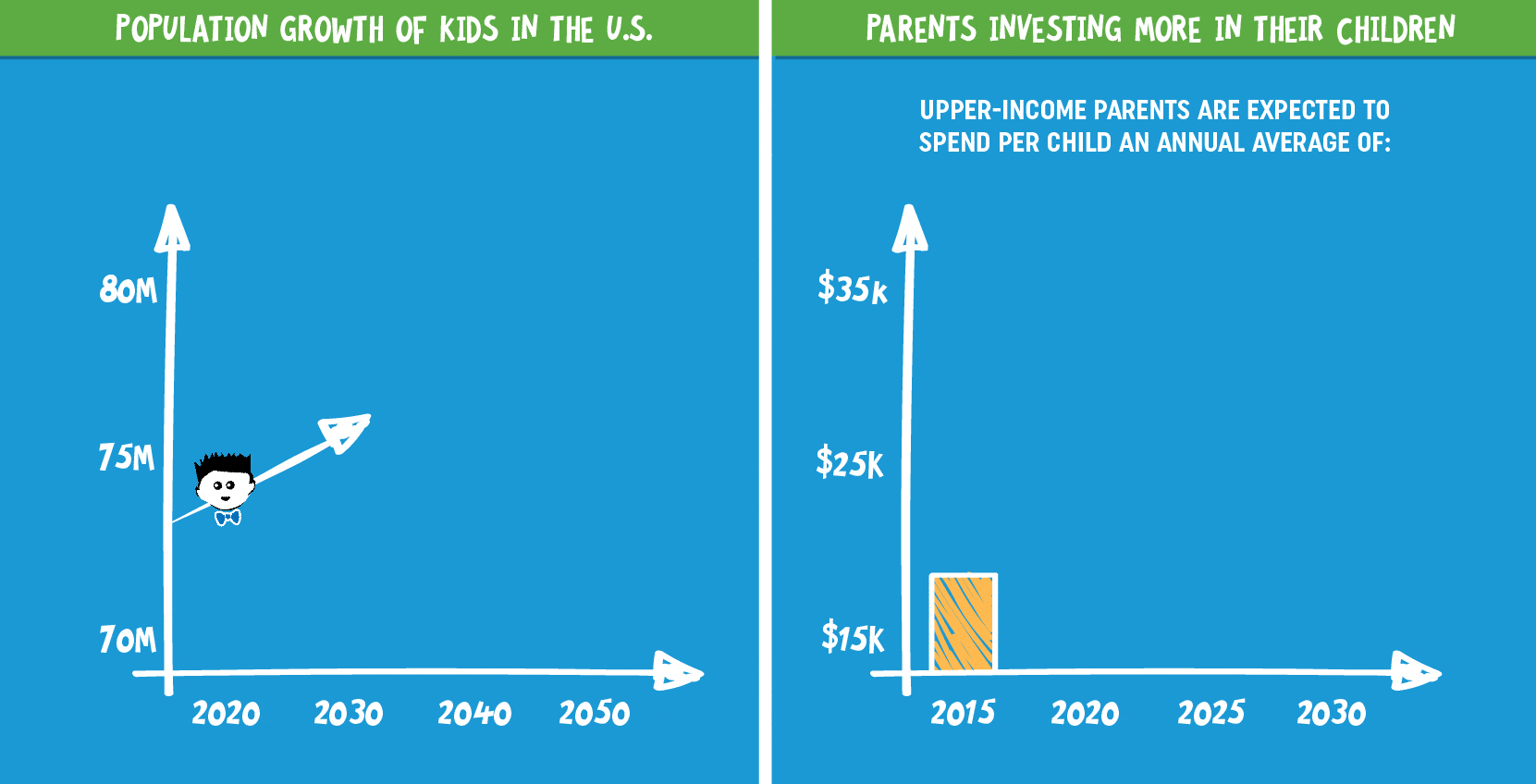 With 82 percent of new parents being millennials, the generation with more buying power than any demographic is central to the booming children's franchise industry. For an upper-income household, parents are expected to spend an annual average of $22,100 per child in 2020. That number is expected to rise to $32,550 per child by 2030.
This spending increase is largely due to millennial parents waiting to have children. They desire greater financial stability before entering parenthood, with many choosing to pursue higher educational goals and more women entering the workforce than ever before.
However, when millennials do become parents and decide to spend on their children, their generational spending habits reflect a desire for exceptional experiences. Seventy-five percent of millennials say they would rather spend their money on experiences than material possessions, and that sentiment applies to how they spend on their children. Instead of showering children with gifts, millennial parents are seeking out more vacations, entertainment, and memorable experiences with their children – whether it's a trip to a theme park or a one-of-a-kind haircut at Pigtails & Crewcuts.
Recession-Resilience of Children's Business Concepts
When researching investment opportunities, it's crucial to consider how dependent a concept may be on the positive fluctuation of the market. To ensure your investment is as financially smart as possible, it is vital to seek out recession-resilient concepts.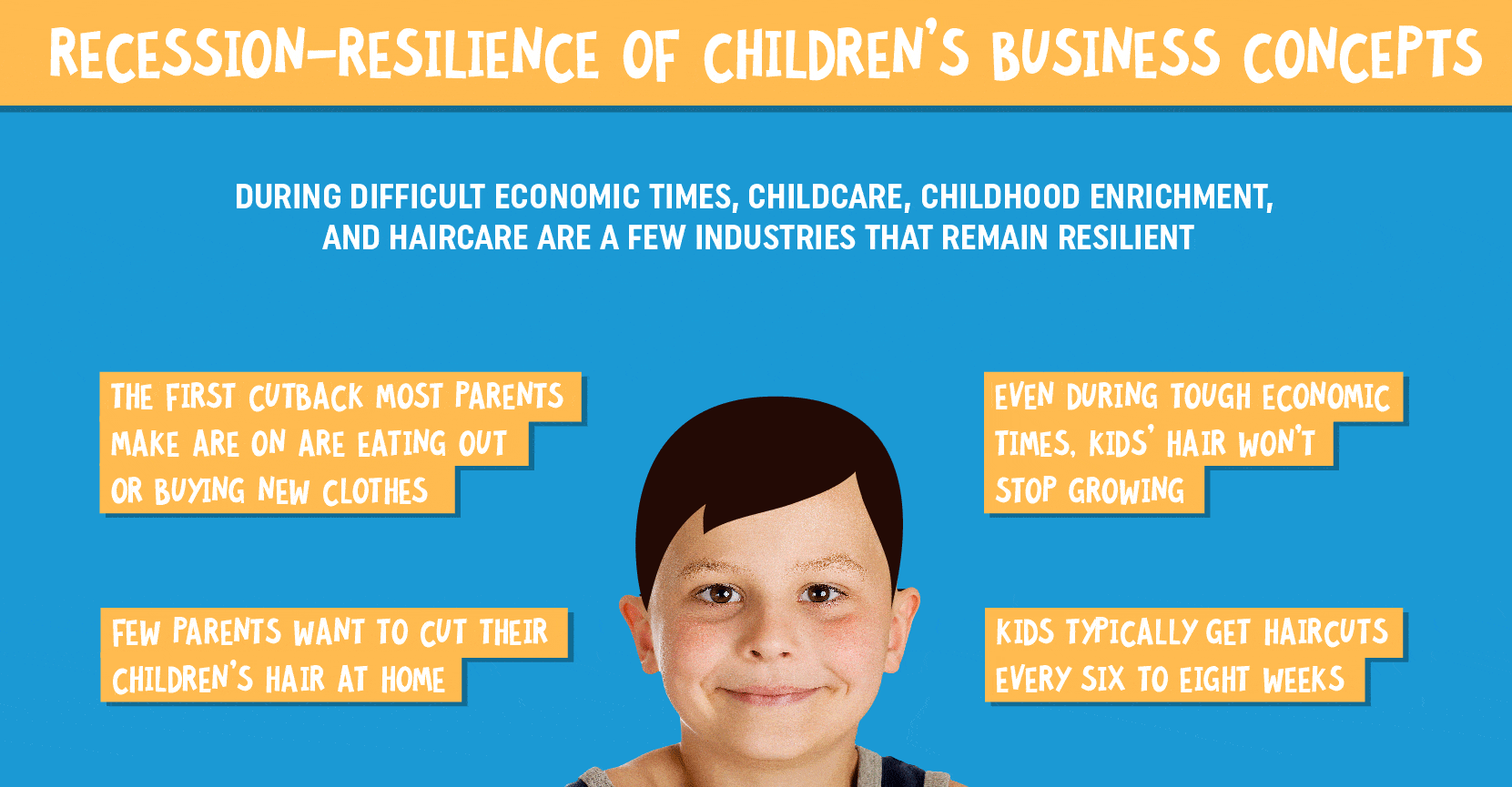 During difficult economic times, childcare, childhood enrichment, and haircare are a few industries that remain steady. The first places that most parents cut back on are eating out or buying new clothes. Few parents look forward to the prospect of cutting their children's hair at home. Not only can it be messy and stressful, but most parents aren't equipped with the skills or tools to do it properly.
Regardless of the economy, kids won't stop growing and neither will their hair. Children typically get haircuts every six to eight weeks, which roughly equates to seven salon visits per year. For Pigtails & Crewcuts franchisees, customer retention means steady business year-round in any economic climate.
Comparative Low Cost of Children's Franchises
Not only is business steady for our franchisees, but their initial investment is also comparatively low.

The cost to open other service-based franchises varies greatly across industries:
Hotels = $5 million and up
Full-service restaurants = $750,000 to $3 million and up
Fast-food restaurants = $250,000 to $1 million and up
Auto repair and maintenance = $200,000 – $300,000 and up
Pigtails & Crewcuts = $98,250 – $229,750 per location
By virtue of being a recession-resilient concept, Pigtails & Crewcuts is a smart investment for entrepreneurs seeking a strong, steady ROI. There's never been a better time to join the Pigtails & Crewcuts family.
See the full infographic below:

Do you want to capitalize on the growing children's franchise industry with your own Pigtails & Crewcuts? Contact us today!