Discovery Day is among the most important steps in your journey to becoming a franchisee. After applying for franchise ownership with a company and familiarizing yourself with its Franchise Disclosure Document, connecting with existing franchisees, and doing your due diligence, it's time to visit headquarters and immerse yourself in the business and culture you may soon call your own.
At Pigtails & Crewcuts, we look forward to each and every one of our Discovery Days. They give us an opportunity to explain why Pigtails & Crewcuts is the best franchise in the children's haircut industry and meet many of the aspiring business owners who will soon join our family.
Here's what to expect at a Pigtails & Crewcuts Discovery Day.
1. The History and Concept of Pigtails & Crewcuts
When you arrive at our headquarters in Atlanta, you'll meet a handful of members of our executive team, including President and CEO of Pigtails & Crewcuts Wade Brannon, Vice President of Franchise Development Michelle Holliman, and Vice President of Franchise Support Theresa Underwood. Our team will lead a presentation detailing the fundamentals of what it's like to franchise with Pigtails & Crewcuts.
That presentation begins with a history and breakdown of the Pigtails & Crewcuts concept. In this section, you will hear about why Wade founded Pigtails & Crewcuts and how we've fulfilled his vision of becoming the leading children's haircut franchise.
2. Overview of the Children's Hair Salon Industry
After learning about our history and mission, you'll learn about our industry. Children's haircuts account for $5 billion of the $64 billion the haircut industry earns every year overall. Not only is the market booming but our business model is also recession-resilient, ensuring franchisees will be kept busy regardless of the economic climate.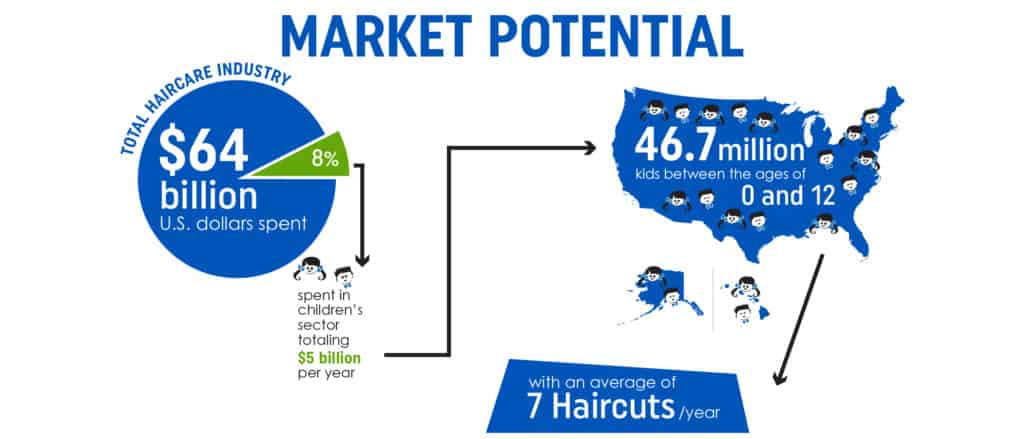 3. Learn What To Expect From Each Other
Franchising is a mutually beneficial relationship. As a franchisor, we are expanding our brand by opening new locations, while our franchisees are achieving their goal of owning their own business with an investment that comes with built-in training, support, and a blueprint for success.
That's why it's important to take time to discuss our expectations for both parties during Discovery Day. You will learn exactly what you can expect from us, including:
Ongoing operational and marketing support
Performance monitoring and financial management
Our marketing team works diligently to develop and leverage partnerships for national advertising campaigns. In the past, we have partnered with Lionsgate Films and Beaches, Disney Junior, and the Great Wolf Lodge.
At the same time, we will communicate what we expect from all of our franchisees. This includes:
Securing a location
Completing your training
Complying with brand and professional standards
Establishing positive vendor relationships
4. Visit a Pigtails & Crewcuts Salon
After our presentation ends, you will get to visit a Pigtails & Crewcuts salon to see our concept first-hand. Here, you'll be able to get a feel for the atmosphere and personality of our brand. In addition, you'll meet salon staff and stylists to get a better understanding of what it's like running a Pigtails & Crewcuts franchise, giving you a personal insight into your decision.
5. Have Your Questions Answered
A Pigtails & Crewcuts Discovery Day comes to a close with the most important step of the process: a Q&A. This is a time when you will be able to ask members of our executive team anything you want, from questions about corporate support to details regarding customer demographics.
Our goal is to be transparent in our communication and operations, establishing a mutual trust that your investment in Pigtails & Crewcuts is the best decision for you to make.
Are you ready to get started on your path to business ownership with Pigtails & Crewcuts? Fill out our franchise application form here!